Your Sacred Story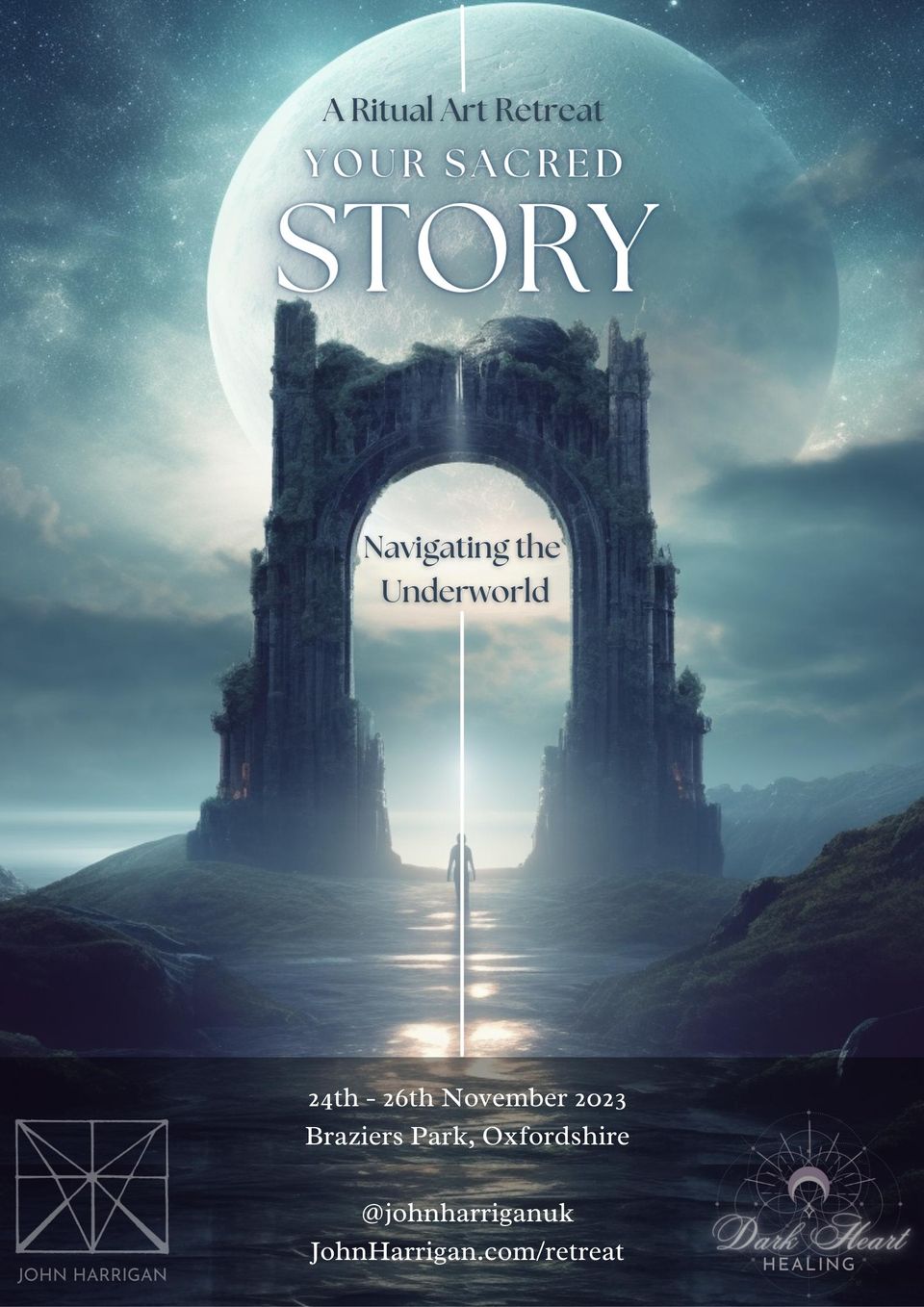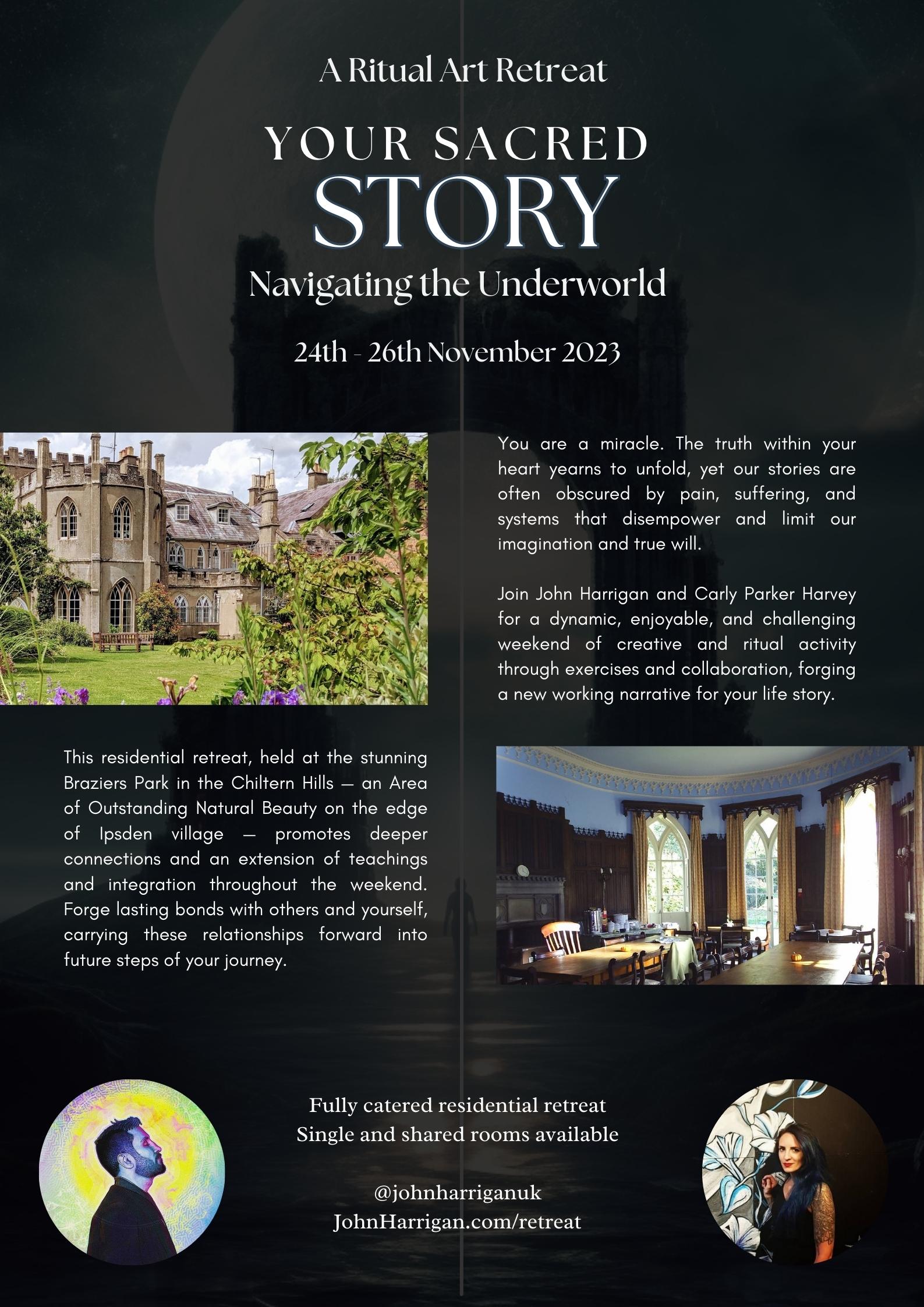 Life is a journey of exploration where we seek our truth, purpose, and potential. Our ancestors persevered for millennia, ensuring their lineage would contribute to the human story. You are a miracle. The truth within your heart yearns to unfold, yet our stories are often obscured by pain, suffering, and systems that disempower and limit our imagination and true will.
In celebration of the upcoming launch of John Harrigan's highly anticipated book, "The Story of You", and in collaboration with Carly Parker Harvey of Dark Heart Healing you are invited to a transformative retreat that combines storytelling, spiritual growth, Ritual Art, and Sacred Magic. "The Story of You" is a groundbreaking creative process that empowers you to author your life narrative, weaving your experiences, dreams, and aspirations into a vibrant tapestry of self-discovery.
At the retreat, immerse yourself in experiential Ritual Art workshop led by John Harrigan.  We will explore various visualisation and meditation techniques and exercises that combine the essence of sacred magic and ritual. During the weekend you will step into The Story ritual, a transformative experience which will allow you to transmute pain into peace, suffering into deep understanding and connection to yourself beyond anything you will have experienced before.
'Solve et Coagula'. Dissolve and coagulate. Destroy to build up.
Participate in a dynamic, enjoyable, and challenging weekend of creative and ritual activity through exercises and collaboration, forging a new working narrative for your life story. "Art is magic. Art is utterly vital. It has the power to heal deep wounds, to support us in our darkest moments, and to help us persevere when life's challenges bring us to our knees." John Harrigan.
Dive into the wonders and profound truths of Sacred Magic, exploring the essence of your true story and engaging in powerful ceremonies and rituals that unlock the inherent gifts that existence has provided to you whilst exploring:
Connection to self
Alchemical transmutation
Communion with spirit
The imaginal as a landscape of truth
Navigating fate
Transformation of trauma
Love as anchor point
Ancestral wisdom
Freedom
Braziers Park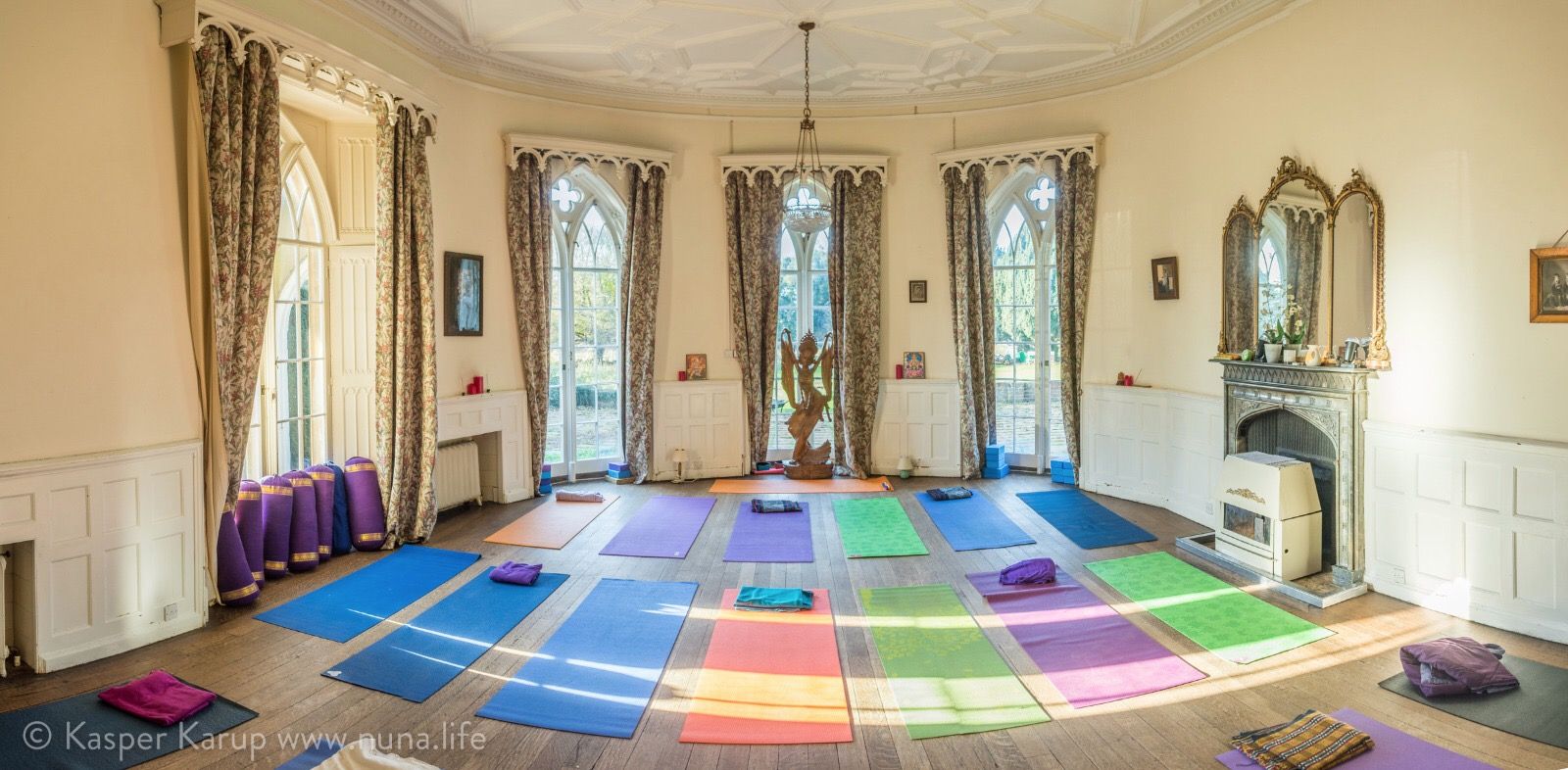 This residential retreat, held at the stunning Braziers Park in the Chiltern Hills—an Area of Outstanding Natural Beauty on the edge of Ipsden village—promotes deeper connections and an extension of teachings and integration throughout the weekend. Forge lasting bonds with others and yourself, carrying these relationships forward into future steps of your journey. Your place on the retreat includes meals from Friday evening to Sunday afternoon.
Facilitators
JOHN HARRIGAN
John has devoted much of his life to exploring the sacred nature of the mind and imagination through meditation, ritual, and storytelling. Over thirty-five years, his practice has centred on the sacred and divine, delving into landscapes of wonder as a writer, filmmaker, artist, magician, and ritualist. As an artist, he developed 'Theatre of Manifestation,' a framework and guide enabling participants to explore the truth of their own story. John's work with FoolishPeople has been showcased at the Institute of Contemporary Arts, Arcola Theatre, Secret Cinema, and Wilderness Festival, among others.
---
CARLY PARKER HARVEY / DARK HEART HEALING
Carly Parker Harvey, initiated through numerous Ritual Art practices and personal experiences with darkness, founded her Dark Heart Healing project to help people on their journey back to themselves.  She is passionate about bringing the deep healing work that she has experienced to a wider audience.  Carly has been exploring magic since she was a child and has followed it down many paths, seeing it transform deep wounds and create epic shifts in consciousness. She has been practising Reiki since 2009, and now utilises her skills as an intuitive energy worker and coach.  She works to reconnect people to their inner fire, using it to illuminate their own path forwards with a new perspective for the future.
Testimonials
"It has taken almost 2 weeks to fully process the incredible experience of taking part in the Ritual Art Workshop, and it is something that I will remember for the rest of my days. I've been lucky enough to have some truly memorable moments through shamanism and other spiritual practices, but nothing on this scale. John is one of the most engaging, passionate and humble people I have ever met and it felt at times like our group coming together was something beyond the synchronistic. We deconstructed ourselves, releasing all of the pretence and mirage that sometimes makes life feel like a badly written soap opera. And then we healed, allowing our true selves to finally find a voice. Mine has been stifled for way too long and I'd almost forgotten what it sounded like. A big thank you to John and everyone that took part in our journey that day. If you're reading this, and you can make it to the next one, keep listening to that part of you that craves the unconventional" - Richard White
"Those of you who know me well will already be aware of the changes in me since I took part in the first Ritual Art Workshop in June and a subsequent one in July of this year, but I think the difference must be apparent to even those of you who don't know all of the details. John Harrigan gave me the tools to free myself when I didn't even know I was imprisoned, and in doing so has helped me find my way to where I should have been all along. I have so much love for this man and his work." - Karen Mosley
---
Booking Information
Discover the power of your own narrative, unlock the secrets to a more fulfilling and authentic life, and experience the transformative retreat that brings "The Story of You" to life. Join John Harrigan and Carly Parker Harvey for a journey that will forever alter your perception of yourself and the world around you.
Places for this workshop are limited.
If you have any questions about this residential retreat and would like to book your place, please email darkhearthealing@gmail.com
The retreat takes place from Friday 24th to Sunday 26th November 2023 at Braziers Park in Oxfordshire.  Easily accessible by car or using public transport, please visit the website to find out more.
The retreat standard rate is £365 inc. VAT per person for a shared room (2 sharing) or £395 inc. VAT per person for a single room.  All meals are included in this rate.
Alumni: a discount is available to participants who have previously attended.  The discounted rate is £290 inc. VAT per person for a shared room (2 sharing) or £320 inc. VAT per person for a single room.
---